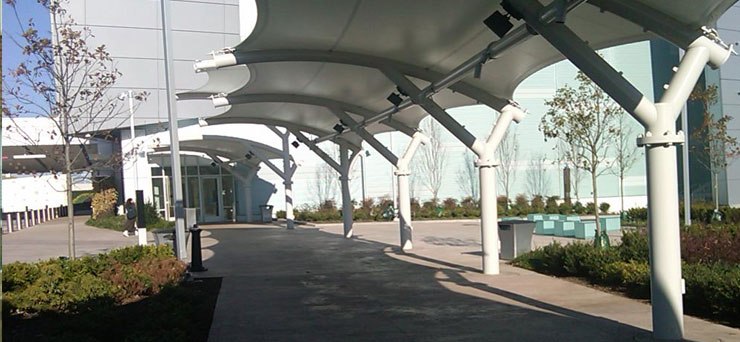 Walkway Tensile Structure Manufacturer
Shri Ram Awning & Tensile Co. is the superior brand of Walkway Tensile Structure Manufacturer which serves its customer with the high quality product. These structures are manufactured on the customer's specific demands and the need of the work. We manufactures the walkway tensile structures, walkway covering structure with full efficacy and brilliant expertise so that it can serve its purpose in the best way. We manufactures the structures so that passersby can get protected from the direct sun light and water during rainy seasons.
We offers the walkway tensile structures at cheaper cost with high quality of service.
These are designed in such a way that it do not constricts the area for the people walking over there. These structures are manufactured and sold at the minimal cost. The material used in the making of these structures are having strength. These helps in protecting the people from heat and water. These structures are built with corrosion free material and polish.
Features:
Tensile structures.
Cheap and affordable.
Surface do not gets corroded.
Easily available and accessible.
It has beautiful design and simple layout.
Caters Just in Time service.
Placed in Delhi(India), is capable of catering to local as well as domestic markets without any hassle. Known for exceptional product basket containing Walkway Tensile Structure, we are a reliable name in this sphere.